Shopify integration
Connecting your Shopify shop ID
In order to be able to identify requests coming from your Shopify shop, we need to recognize your Shopify shop ID.
Look up your Shopify shop ID by going to the admin area of your shop and look at the website address in your browser.
This should look like .myshopify.com, where the name before .myshopify.com, is your shop ID.

Go to the Shopify settings in the Shippingpage dashboard and enter your Shopify shop ID like:

Adding the webhook to your Shopify shop
From your Shopify admin, go to Settings > Notifications (or click this link)
Scroll to the bottom of the page to the Webhooks section, click Create a webhook.
Select the event Fulfillment creation, in the URL field paste the following address https://app.shippingpage.com/webhook/shopify
Click Send a test notification.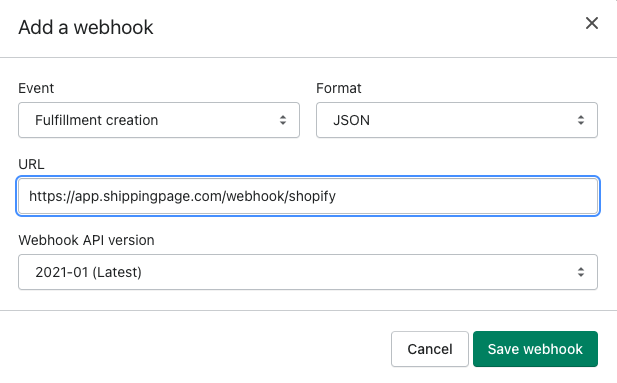 Disabling Shopify's default shipping emails
If you're using our beautifully crafted status emails you need to disable Shopify's default shipping notifications to prevent your customers from receiving double status emails. If you're only using the tracking page by itself you can skip this step.
From your Shopify admin, go to Settings > Notifications.
Scroll down to the Shipping block and unselect the options Out for delivery and Delivered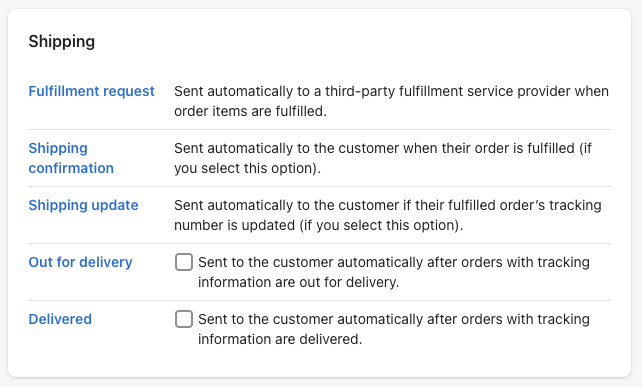 Now every time that an order is fulfilled (manually or via your shipping partner) it's tracked and your customers will receive status updates via email. Orders that are fulfilled without a tracking number will be automatically discarded.